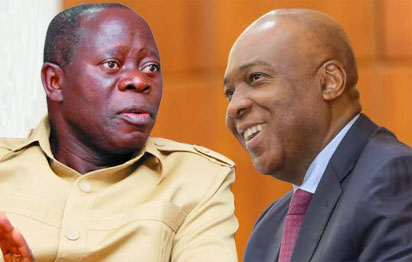 The Senate President, Dr. Abubakar Bukola Saraki, has said that the ruling All Progressives Congress, APC, party is scared of his possible emergence as presidential candidate of the Peoples Democratic Party, PDP, come 2019 election.
Saraki also challenged the party to a national debate to argue issues the party said borders on his "…integrity, antecedents, competence and capability."
The APC, in a statement on Wednesday by its acting National Publicity Secretary, Yekini Nabena, raised ethical issues regarding Saraki's bid for the nation's presidency.
The APC had, in the report, said claimed that Saraki "has repeatedly displayed his character as extremely selfish, deceitful, untrustworthy and unreliable. His only goal is to get to the top, stay at the top, ruin or wreck whatever he finds there or in the event of failure, collapse the system or process."
The party said Saraki's bid for presidency should be taken with a pinch of salt.
However, reacting to the allegations in a statement through Yusuph Olaniyonu, his Special Adviser on Media and Publicity, Saraki wondered how a presidential ambition of an aspirant in another party has become the problem of the APC.
He however said that the APC is scared stiff of his possible emergence as the presidential candidate of the PDP.
Saraki also said that although he would not be distracted by what he described as "the antics of an upstart who lives in Abuja but waits to sign press statements composed for him from Lagos," that "when his masters show their face, we will debate all the issues they have raised and the ones they may wish to even concoct."
Saraki however challenged the party to a national debate in any television station of its choice to defend and argue the raised claims.
Below is his full statement.
"The Senate President will not be distracted by the antics of an upstart who lives in Abuja but waits to sign press statements composed for him from Lagos. When his masters show their face, we will debate all the issues they have raised and the ones they may wish to even concoct.

Dr. Saraki does not have any credibility issues except the ones concocted by these putative demagogues to whom the Senate President has become a nightmare.

One should ask, what is APC's business with an aspirant of another party? The truth is APC is scared stiff of the possibility of a Saraki candidacy. Fortunately, they have no role in deciding that.

Meanwhile, Mr. Yekinni Nabena should know by now that many people in the media believe he is a robot and has no face.

Here is an opportunity for him to come out of his hiding and come on a national television to debate all the issues he has raised with one of the aides of the Senate President.

We hope he will take up this challenge and stop behaving like a masquerade. He is free to choose any independent TV station of his choice."